Managerial Skills and Organizational Performance: Competitive Advantage
Keywords:
Management skills, organizational performance, competitive advantage, SMEs
Abstract
The purpose of the following research was to analyze how management skills affect organizational performance and contribute to SMEs' competitive advantage. This study has a quantitative approach by applying questionnaires to a sample of 273 companies in Caquetá, mainly in the commerce, manufacturing, and services sectors. The main results reveal that managerial skills and organizational performance are variables that impact the competitive advantage of SMEs in the department of Caquetá.
References
Adner, R., & Helfat, C. (2003). Corporate effects and dynamic managerial capabilities. Strategic Management Journal, 24(10 SPEC ISS.), 1011–1025. https://doi.org/10.1002/smj.331
Aguinis, H. & Kraiger, K. (2009). Beneficios de la formación y el desarrollo para las personas y los equipos, las organizaciones y la sociedad. Revista anual de psicología, 60 (1), 451-474.
Armstrong, M. (2017). Armstrong sobre la reinvención de la gestión del desempeño: construir una cultura de mejora continua. Editores de páginas de Kogan.
Ates, A., Garengo, P., Cocca, P. & Bititci, U. (2013). El desarrollo de la práctica de gestión de las PYME para una gestión eficaz del desempeño. Revista de desarrollo de pequeñas empresas y empresas.
Audretsch, D. B., & Belitski, M. (2021). Knowledge complexity and firm performance: evidence from the European SMEs. Journal of Knowledge Management.
Ballina, F. (2015). Ventajas competitivas de la flexibilidad numérica en micro, pequeñas y medianas empresas del Distrito Federal. Revista Problemas Del Desarrollo, 183(46), 165– 188.
Barnes, D. & Radnor, Z. (2008). La medición del rendimiento y gestión del rendimiento: la perspectiva de gestión de operaciones. En Thorpe, R. & Holloway, J. (Eds), Performance Gestión: perspectivas multidisciplinarias, Palgrave Macmillan, Basingstoke, págs. 89-106.
Bititci, EE. UU., Carrie, AS & McDevitt, L. (1997). Sistemas integrados de medición del desempeño: una guía de desarrollo. Revista Internacional de Gestión de Operaciones y Producción, 17(5), 522-34.
Busi, M. & Bititci, EE. UU. (2006). Gestión colaborativa del desempeño: brechas actuales e investigación futuras. Revista Internacional de Productividad y Gestión del Desempeño, 55(1), 7-25.
Cagliano, R., Blackmon, K. & Voss, C. (2001). Small Companies under microscope: international diferencias en las prácticas y el desempeño de la gestión de producción / operaciones. Sistemas de fabricación integrados, 12(7), 469-82.
Camisón, C. (1997). La competitividad de la PYME industrial española: estrategia y competencias distintivas. Madrid: Civitas.
DANE. (2014). Informe de Coyuntura Económica Regional Caquetá. Florencia: Dane.
Fajardo M., Cuellar, Y. & Vargas, F. (2017). Las TIC como estrategia en la mejora y desarrollo de las pymes en el Municipio de Florencia Caquetá para su mayor competitividad. XI congreso de las Red Internacional de Investigación en Competitividad. México: Universidad de Guadalajara
Fatonah, S., & Haryanto, A. (2022). Exploring market orientation, product innovation and competitive advantage to enhance the performance of SMEs under uncertain evens. Uncertain Supply Chain Management, 10(1), 161-168.
Fernández, C. & Martos, M. (2014). Intellectual capital and distinctive skills in SMEs of the timber industry in Argentina. Revista de Administração de Empresas, 54(6), 634-646. doi: 10.1590/S0034-759020140604
Ferrer, J. & Clemenza, C. (2006). Habilidades gerenciales como fundamento de la estrategia competitiva en los sectores de actividad metalmecánica venezolana. Tendencias, 7(1), 81-100.
Ministry of Commerce (2019). Informe indicadores socioeconómicos del Departamento de Caquetá. Florencia: Ministry of Commerce.
Frangieh, M., & Rusu, D. (2021). The effect of the carrot and stick transactional leadership style in motivating employees in SMEs. Revista de Management Comparat International, 22(2), 242-252.
Fuller-Love, N. (2006). Desarrollo gerencial en pequeñas empresas. Revista Internacional de Revisiones de gestión 8(3), 175-90.
García, A. (2021). Las ventajas competitivas y su alcance en posicionamiento estratégico. Universidad Tecnológica de San Juan del Río. Ponencia. Recuperado de https://www.researchgate.net/publication/356784322_Las_ventajas_competitivas_y_su_alcance_en_el_posicionamiento_de_las_pymes
Gil, C. (2019). Analisis de la aplicación de la gestión integral en seis empresas comerciales de tipo familiar en Florencia. Desarrollo e Innovación, 273 - 288.
Grant, R. (2005). Contemporary Strategy Analysis. New York: John Wiley & Sons.
Gray, C. (2002). Emprendimiento, resistencia al cambio y crecimiento en pequeñas empresas. Diario de Desarrollo de pequeñas empresas y empresas, 9(1), 61-72.
Hagos, T. & Pal, G. (2010). Los medios de análisis y evaluación del desempeño societario. Annales Universitatis Apulensis-Series Oeconomica , 12 (1).
Heredia, A., Castillo, M. & Juárez, S. (2009). Innovación-competitividad, relación fundamental en el funcionamiento de las micro, pequeñas y medianas empresas. Mercados y Negocios., 10(2), 48–67.
Hezlett, S. (2004). Las ventajas de informar a su mentor: una comparación de gerentes con supervisores y mentores no supervisores. Academia Internacional de Desarrollo de Recursos Humanos Conferencia (AHRD), Austin, marzo.
Hoffman, M., & Tadelis, S. (2021). People management skills, employee attrition, and manager rewards: An empirical analysis. Journal of Political Economy, 129(1), 243-285.
Hudson, M. & Smith, D. (2007). Implementación de desempeño alineado estratégicamente medición en pequeñas empresas. Revista Internacional de Economía de la Producción, 106(2) 393-408.
Jennings, P. & Beaver, G. (1997). El desempeño y la ventaja competitiva de las pequeñas empresas: una perspectiva de gestión. Revista Internacional de Pequeñas Empresas 15(2), 34-58.
Laguna, M., Wiechetek, M. & Talik, W. (2012). Las competencias de los gerentes y su éxito empresarial. Revista de Negocios de Europa Central, 1 (3).
Lansbury, R., & Quince, A. (1988). Performance appraisal: A critical review of its role in human resource management. Australian Personnel Management, 75-96.
Lepak, D. , & Snell, S. (1999). The human resource architecture: Toward a theory of human capital allocation and development. Academy of Management Review, 24(1), 31–48.
Levi, M., & Powell, P. (2005). Strategies for Growth in SMEs: the role of information and information systems. London: Elsevier Limited.
Liu, L., & McMurray, A. (2004). Frontline leaders. Journal of European Industrial Training, 28(2/3/4), 339–352. https://doi.org/10.1108/03090590410527708
Malik, A., Budhwar, P., Patel, C., & Laker, B. (2021). Holistic indigenous and atomistic modernity: Analyzing performance management in two Indian emerging market multinational corporations. Human Resource Management, 60(5), 803-823.
Marino, A., & Pariso, P. (2021). The transition towards to the circular economy: European SMEs' trajectories. Entrepreneurship and Sustainability Issues, 8(4), 431.
Markman, G. (2007). Competencias del emprendedor, en el psicología del emprendimiento, eds. Baum, JR, Frese, M. y Baron, R., A., Mahwah,Londres: Lawrence Erlbaum Assoc., 67-92.
Minh, H. (2020). Revisión de capacidades dinámicas, capacidad de innovación, capacidades emprendedoras y sus consecuencias. Journal of Asian Finance, Economics and Business 7(8), 485-494. doi: 10.13106 / jafeb.2020.vol7.no8.485
Ministerio de Comercio, Industria y Turismo. (2019). www.mincit.gov.co. Obtenido de http://www.mincit.gov.co/CMSPages/GetFile.aspx?guid=9ab3dec0-e908-4697-a21fa28e8a5efb65
Mintzberg, H. (1973), La naturaleza del trabajo directivo, New Jersey: Prentice-Hall.
Moynihan, D. (2008), The Dynamics of Performance Management: Construyendo información y Reforma, Washington: Georgetown University
Mumford, M., Scott, G., Gaddis, B., & Strange, J. (2002). Leading creative people: Orchestrating expertise and relationships. The leadership quarterly, 13(6), 705-750.
Mumford, T., Campion, M., & Morgeson, F. (2007). The leadership skills strataplex: Leadership skill requirements across organizational levels. The Leadership Quarterly, 18(2), 154-166.
Northouse, P. (2010). Leadership: theory and practice (5th edition). Los Angeles: Sage Publications
Otley, D. (1999). Gestión del rendimiento: un marco para los sistemas de control de la gestión Research. Management Accounting Research, 10(4), 363-82.
Pacheco, M. (2005). Ventaja competitiva: gestión en el nivel de empresa. Mercados y Negocios., 12, 125–146.
Pardo, Y., Hernández, O., & Andrade, M. (2022). Key Factors of Competitiveness and Sustainability in Livestock Systems of The Andean-Amazonian Piedmont. Mercados y Negocios, (45), 27–48. https://doi.org/10.32870/myn.vi45.7663
Parthiban, P. y Goh, M. (2011). Un modelo integrado para la gestión del rendimiento de las unidades de fabricación. Evaluación comparativa: una revista internacional, 18 (2), 261-281.
Pelham, A. (1997). Mediating Influences on the Relationship between Market Orientation and Profitability in Small Industrial Firms. Journal of Marketing Theory and Practice, 5(3), 55-76.
Piwowar‐Sulej, K. (2021). Core functions of Sustainable Human Resource Management. A hybrid literature review with the use of H‐Classics methodology. Sustainable Development, 29(4), 671-693.
Fernández-Jardón, C., & Martos, M. (2016). Capital intelectual y ventajas competitivas en pymes basadas en recursos naturales de Latinoamérica. Innovar: Revista de ciencias administrativas y sociales, 117-132.
Quinn, R. & Rohrbaugh, J. (1983). Un modelo espacial de criterios de efectividad: Hacia un enfoque de valores competitivos para el análisis organizacional. Ciencias de la administración, 29 (3), 363-377.
Rauch, A. & Frese, M. (2007a). Volvamos a poner a la persona en la investigación empresarial: un metanálisis sobre la relación entre los rasgos de personalidad de los propietarios de empresas, la creación de empresas y el éxito. Revista europea de psicología del trabajo y de las organizaciones, 16 (4), 353-385.
Rauch, A. & Frese, M. (2007b). Devolvamos a la persona en la investigación sobre el espíritu empresarial: un metaanálisis sobre la relación entre los rasgos de personalidad de los dueños de negocios, creación de empresas y éxito. Revista europea de trabajo y Psicología Organizacional, 16, 353-385.
Stiffler, M. (2006), Performance: Creando la organización impulsada por el rendimiento, New York: Wiley.
Tarutea, A., & Gatautis, R. (2014). ICT impact on SMEs performance. Procedia - Social and Behavioral Sciences, 110, 1218-1225.
Tiron, A., Deliu, D., Farcane, N., & Dontu, A. (2020). Managing change with and through blockchain in accountancy organizations: a systematic literature review. Journal of Organizational Change Management, 34(2), 477-506.
Valenzo, M., & Gonzaléz, A. (2021). Capacidad de adaptación y competitividad en microempresas de abarrotes en Cuitzeo, México. Mercados y Negocios, (43), 49–76. https://doi.org/10.32870/myn.v0i43.7629
Vazirani, N. (2010). Competencias y modelo de competencias: Una breve descripción de su desarrollo y aplicación. Journal of Management, 7: 121-131.
Verweire, K., Van Den Berghe, L. & Berghe, L. (Eds.). (2004). Gestión integrada del desempeño: una guía para la implementación de la estrategia. Sabio.
Woodruffe, C. (1993). What Is Meant by a Competency? Leadership & Organization Development Journal, 14(1), 29–36. https://doi.org/10.1108/eb053651
Yukl, G., Gordon, A., & Taber, T. (2002). Taxonomy of Leadership Behavior: Half Century of Behavior Research. Journal of Leadership & Organizational Behavior, 9(1), 15–32. https://doi.org/10.1177/107179190200900102
Zevallos, E. V. (2006). Obstáculos al desarrollo de las pequeñas y medianas empresas en América latina. Cuadernos de Difusión, 11(20), 75-97.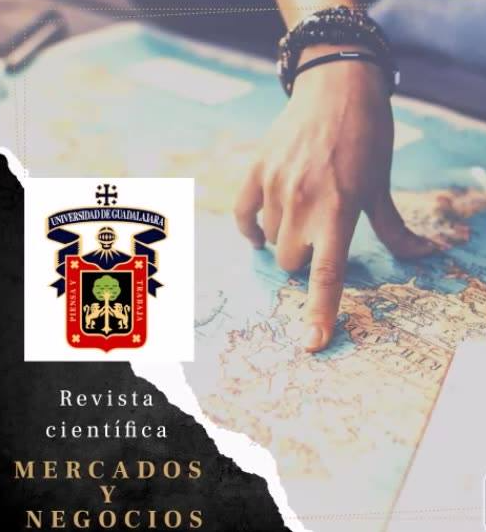 How to Cite
Penagos Guzmán, F., Hernández Castorena, O., & García Solarte, M. (2023). Managerial Skills and Organizational Performance: Competitive Advantage . Mercados Y Negocios, (48), 75–94. https://doi.org/10.32870/myn.vi48.7688
License
Copyright (c) 2023 Fernando Penagos Guzmán, Octavio Hernández Castorena, Mónica García Solarte
This work is licensed under a Creative Commons Attribution-NonCommercial 4.0 International License.
Mercados y Negocios by Department of Mercadotecnia y Negocios Internacionales. University of Guadalajara is licensed under a License Creative Commons Attribution-NonCommercial 4.0 International.



The author retains the copyright.